NESsT is actively seeking social enterprises to join its portfolio in Romania. Applications will be accepted between April 16 and May 25, 2018.
NESsT Romania Social Enterprise Competition
We are continually building our portfolio pipeline and welcome information about social enterprises that are using market‐based solutions to create dignified employment, placements and viable income generation opportunities for marginalized groups.
This program of support of the social businesses from Romania is part of the project named "The Power of Social Enterprise – Bringing Dignified Jobs and Income to At Risk Communities" implemented in cooperation with UniCredit Foundation, UniCredit Bank and UniCredit Business Intergrated Solutions.
Who Should Apply?
Social enterprises must meet the following requirements to apply for the NESsT Social Enterprises Competition:
Be legally registered and based in Romania

Use market‐based solutions to create dignified employment, placements and viable income generation opportunities for marginalized groups, while also addressing the many barriers that keep these communities from accessing the formal labor force.

Operate at the validate stage (i.e. sales exist but do not sustain the enterprise), the prepare-to-scale stage (i.e. sales sustain initial operations but not growth) or scale stage (i.e. profit exists and can be invested in the growth of the business)

Demonstrate a willingness to be active and engaged through the months of the selection process
This program is open to social enterprises, as defined in law no. 219/2015 on social economy, and to all businesses set up and run by NGOs, individuals, cooperatives or various types of commercial entities (PFA, LLC, II) which are motivated to solve a social problem in a manner that respects the principles of social economy. The profit must be reinvested either in the development of the social enterprise or into the benefit of marginalized groups.
Applications will be accepted between 16 April and 25 May 2018 and will be reviewed on an ongoing basis.
What we offer
We provide our portfolio with tailored financial support, business mentoring and strategic networking.
Investments:
Under this program, NESsT, with the support of UniCredit Foundation, will invest a total of EUR 45 000 in the form of grants in the most promising three social businesses.
The social businesses reaching the final selection stage will have the chance to win an additional prize offered by the UniCredit Foundation, through the Your Choice, Your Project (YCYP) initiative, of EUR 5 000.
Tailored Support:
If you are in the validate stage, we will help you test the business model and refine it until it works, including assisting you with capturing customer feedback to validate your product or service for various market segments. We'll also work with you to operationalize the business by developing a realistic revenue and expense structure, establishing efficient operational processes, adopting effective metrics to manage your business and track impact, and building a team with specialized skills to assume the day-to-day operations. To ensure the financial sustainability of your business, our team will assist with identifying further patient capital needs and attracting donors, investors and other partners.
If you are preparing to scale or scalling, the NESsT team will help you develop a three-year strategic plan, which will include scaling milestones, key challenges that need to be resolved and a clear exit strategy. Through our work together, we'll also help you strengthen your brand and marketing strategy to grow and access new market segments, as well as support you in building a solid marketing team that can implement the strategy. Another key focus at this phase will be on the development of your senior management team and on attracting new donors, investors and partners to support financing and social impact goals.
NESsT will customize our support of your business based on your needs, leveraging the services and support of our Business Advisory Network and NESsT partners to be your mentors and to provide industry-specific expertise. Our goal is to help you tap into your company's greatest opportunities for growth and to support you in taking calculated risks that will result in the greatest impact in the communities you work.
What we expect from you
We expect you to be engaged and dedicated to the social mission and business performance of your social enterprise. We want to develop a trust-based, long-term relationship with you and your team. That means we may ask you tough questions and challenge you to make changes, with the goal of making your business even stronger. We ask that you be open and ready to answer questions regarding your business, social impact, finances and governance. And, we expect you to ask us a lot of questions.
Once in the portfolio, we ask that you meet with our staff regularly and publicly communicate the support you get from NESsT. We encourage you to use NESsT's proven Performance Management Tool, which will help you to manage and measure your performance against annual established social impact and business performance goals. We also ask that you participate in events organized for the portfolio, including workshops and retreats, as well as sector-building events.
Finally, in case NESsT will become a key investor in your business, a NESsT representative will be available to hold a seat on your company's board of directors. We will also agree to a set of decisions in which NESsT will have decision-making authority. This will allow NESsT to both mitigate the risks of our investment, while also ensuring that these investments are used to support informed business decisions.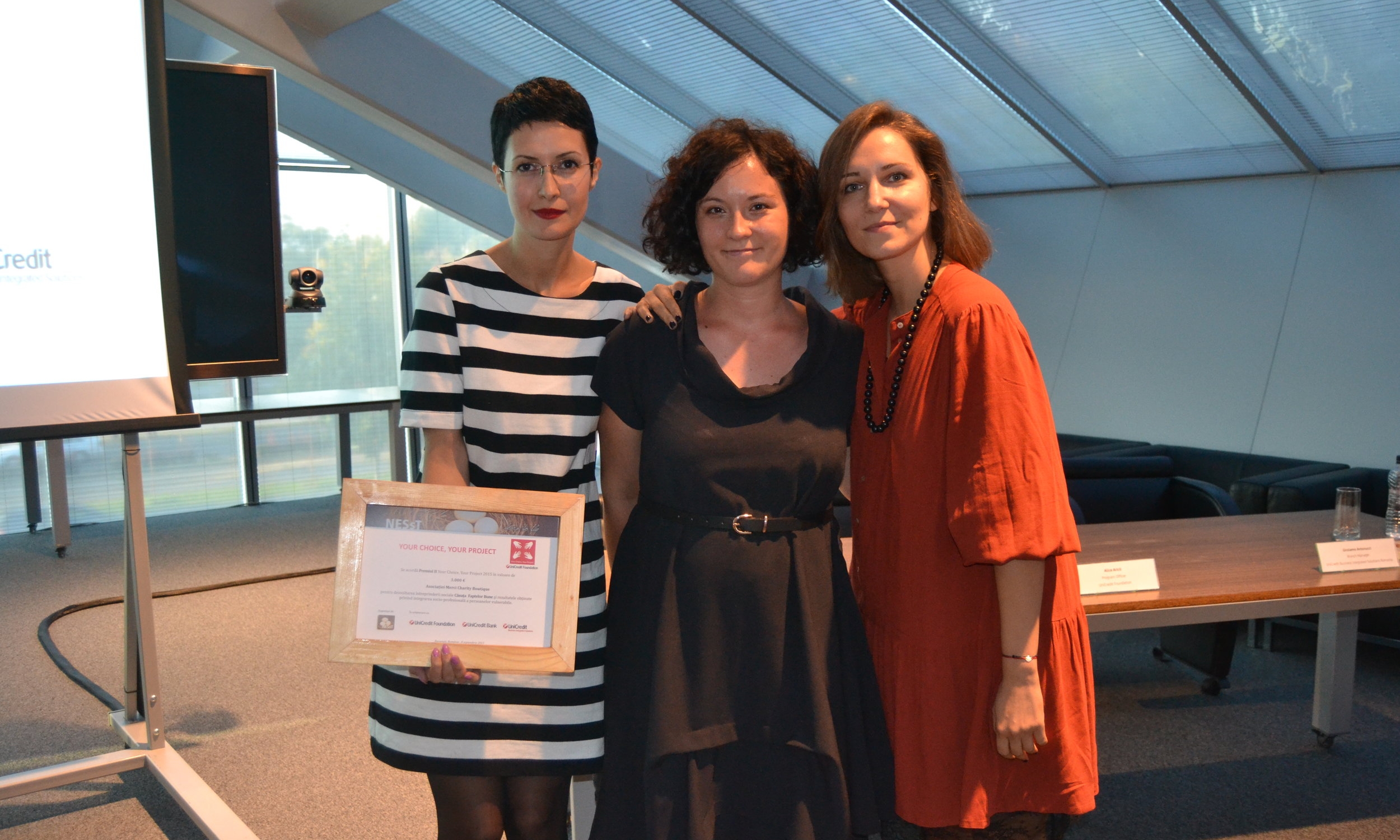 From Challenges to Opportunities
Advancing Social Enterprise to Provide Dignified Livelihoods for
Romania's Disadvantaged Communities
1. Apply
April-May 2018
Let our portfolio team know about your social enterprise by completing the application form. The form will take you a few hours to complete, but you can save it and resume at a later time.
Our portfolio team will score your application against key criteria and may follow up with additional questions.
2. Due Diligence
May-June 2018
After checking the eligibility of each applicant and scoring it against key criteria, our portfolio team will schedule interviews with the selected businesses. During these discussions, we will be looking to develop a deeper understanding of your social enterprise's financials, legal and governance structure, leadership team development, growth opportunities and investment needs.
3. Pre-investment support
June-July 2018
Our portfolio team will offer 10-12 social enterprises support in the form of a workshop and individual mentoring to develop your business model (canvas or business plan), financial model and prepare you to pitch to the investment panel.
4. Investment and non-financial support
July-August 2018
You will be invited to pitch in front of a jury who will select three enterprises to receive financial investment and non-financial support from NESsT for a period of one year.
We will also introduce you to the NESsT performance management tool and schedule regular check-ins with your portfolio manager to ensure you get tailored support, mentoring and training to help your business grow.
Timeline is subject to change.