NESsT is actively seeking social enterprises to join its portfolio in Poland in 2018
NESsT Empowers Open Window
NESsT is actively seeking social enterprises to join its portfolio in Poland in 2018 as part of the NESsT Empowers program. Applications will be accepted beginning January 15, 2018 and will be reviewed on an ongoing basis. The open window will close once we have selected two social enterprises for investment.
NESsT will offer each selected social enterprise with an initial seed funding up to $20,000, entrepreneurial training and business planning support. Our team will also provide one-one-one business consulting and leverage our partner network for industry-specific expertise and engaged mentorship -- to help you scale up job creation and guide your business towards financial sustainability.
The NESsT Empowers program is collaborative initiative supported by our corporate partners in Poland, including JP Morgan, Credit Suisse, Fossil and PwC.
Who Should Apply?
Social enterprises must meet the following requirements to apply for the NESsT Empowers program:
Be based in Poland

Use market‐based solutions to improve access to jobs for at-risk groups by providing them with demand-led job training and/or placement opportunities

Have experience in training and preparing at-risk communities to work within one of the following target growth industries: (1) business processing/shared services, (2) IT services & telecommunication, (3) manufacturing, especially in electronics, household appliances, automobiles and aviation (4) logistics, (5) retail, (6) health care, long-term care and nursing, and (7) food production and processing; enterprises that have trained and prepared youth in other industries and can demonstrate a capacity to do the same in the above industries are also eligible to apply

Operate at the validate stage (i.e. sales exist but do not sustain the enterprise) or the prepare-to-scale stage (i.e. sales sustain initial operations but not growth)

Demonstrate a willingness to be active and engaged through the months of the selection process
NESsT Empowers Open Window Timeline
JANUARY 15 - APRIL 15, 2018
Applications will be accepted beginning January 15, 2018. NESsT will review applications on an ongoing basis. The open window will close on April 15.
FEBRUARY - APRIL 2018
The NESsT portfolio team will conduct site visits with selected applicants. Our team will also prepare an investment memo to present selected companies to the NESsT investment committee. We plan to select three to five organizations to complete the site visit and due diligence stages.
MAY-JUNE 2018
The NESsT portfolio team will announce the selected enterprises approved by our investment committee. We plan to select one to two social enterprises to enter the NESsT portfolio.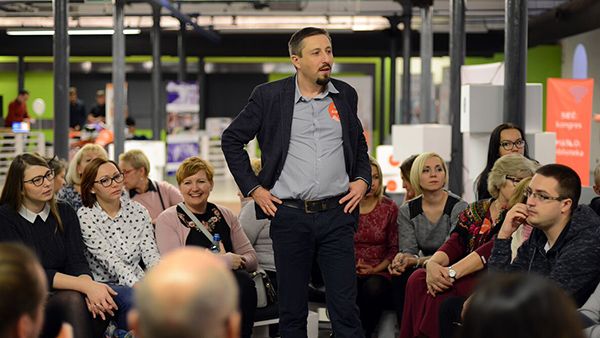 1. Apply
Let our portfolio team know about your social enterprise by completing our portfolio application form. The form will take you a few hours to complete, but you can save it and resume at a later time.
Our portfolio team will score your application against key criteria and may follow up with additional questions.
2. Site Visit
Our portfolio team will schedule a site visit to your business. During this meeting, we will be looking to develop a deeper understanding of your social enterprise and your growth prospects.
3. Due Diligence
Our portfolio team will complete a due diligence process on your social enterprise. This process includes a deep dive into your company's financials, legal and governance structure, leadership team development, growth opportunities and investment needs. Your portfolio manager will then present your business to the NESsT investment committee, which will make the final decision on whether your business will enter our portfolio.
4. Welcome Letter
If your social enterprise is approved for investment, you will receive a welcome letter inviting you to join the NESsT portfolio. We will also introduce you to the NESsT performance management tool and schedule regular check-ins with your portfolio manager to ensure you get tailored support, mentoring and training to help your business grow.